Marble and Granite Countertops Caulking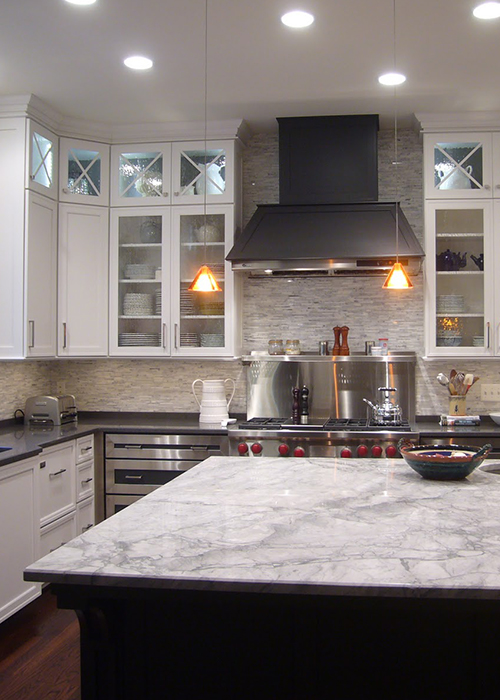 To prevent water from getting underneath your backsplash fabricators will caulk that joint using 100% silicone. Since the caulk is flexible, it is able to shift and move with the counters as the house settles over time. Eventually the caulking will discolor or become moldy. At this point it is time to replace the caulk, because its ability to stop water has been compromised.
Stain Removal
The best way to prevent stains is tend to any spills and splatter right away. The sooner you clean a spill up the less
likely you are to stain your stone. Blot the spill with a paper towel, do not try to wipe up the spill because you will just be increasing the size of the area that could get stained. Once the spill is cleaned up flush the area with warm water and soap, then rinse several times.
Crack and Chip Repair
Though it is a rare occurrence, sometimes the edge of your stone counter could chip from a direct impact (dropping a heavy pot or pan), or maybe the seam in your counter is starting to come apart due to your house's "settling". Should you notice a small chip or crack, most of the time they can be repaired quickly in your home. Whether we need to use a 2 part epoxy, and color match it to fix a chip, or simply use some penetrating glue to fill and seal a crack, ST Joseph Granite's trained professionals have seen and done it all.
Granite Shield… a Permanent Sealing Solution
Some customers might be seeking a permanent way to seal their granite, to ensure that their investment is protected. Stone Care is the area's only trained and licensed applicator of Granite Shield. Granite shield is a permanent natural stone sealer that, when applied by a licensed professional comes with a lifetime warranty against any and all stains.
Scratch Removal
Some Natural stones (marbles, polished lime stones, and soapstone) are softer and may scratch. Most of the time these scratches can be repaired by surface polishing the stone with a high grit diamond abrasive. In some instances where the scratches are deep the piece will have to be brought back to our facility. Here we will fill the scratch (if needed) take the polish off the stone and grind it down slightly, then re polish the surface to bring it back to its original shine.
Natural Stone… Ensuring its beauty will last forever
Natural stone is a very durable surface that typically requires very little maintenance, but like anything else, there are always exceptions. For example a marble floor that is in a high traffic area may begin to look a bit dirty and dull no matter how much you try and clean it.